Glass blowing is handmade at its most enticing. And there are no glass blowers quite like
Kiva Ford
. His miniature and inspired glass creations are impeccably made and awe-inspiring.
Kiva has perhaps one of the most unique creative jobs out there. He creates glass instruments for scientific use, and he has perfected his glass blowing technique through his creation of complex scientific glass instruments. He also teaches at the Jersey City Art School, and conducts glass workshops throughout the year.
In other words, Kiva breathes, lives, and is enveloped constantly by his passion for glass blowing, meshing complementing work and creative arts to constantly create his glass works.
You can find his wearable and miniature glass creations for sale internationally through the Kiva Ford
Etsy shop
that he runs with his sister, Andrea Ford Quinones. While Kiva is in charge of the molding aspect of the shop, Andrea, a classically trained musician, is behind the product design and conceptualization.
"Kiva's artist work is influenced by his interests in history, mythology, and the natural world. his creations span from delicate pendants and tiny vases to large, elaborate bottles encasing glass animals, figures, and even smaller versions of themselves!" Andrea said.
Kiva's influences have brought him to create even the most enticing of glass creations, from wearable glass earrings to tree ornaments with miniature glass animals in them.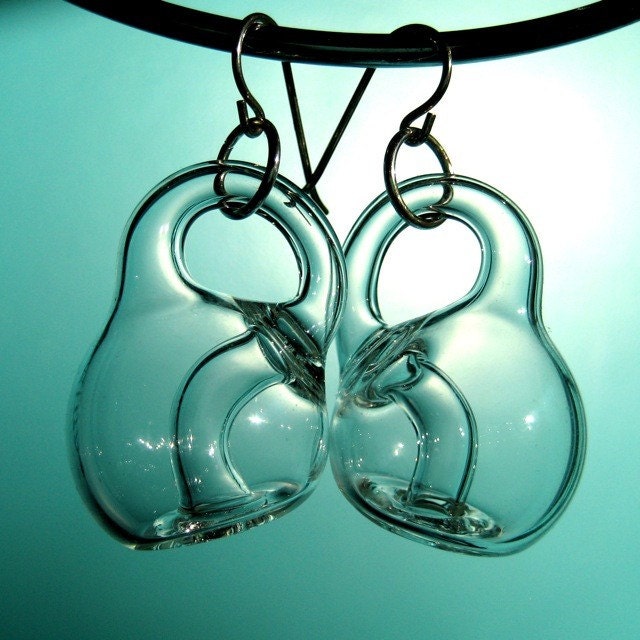 "Working with glass requires a lot of patience, attention to detail, and foresight. With one wrong move, you can lose hours of work! You have to think fast, and this inspires a certain kind of creativity," Andrea said.
Like many artists and musicians will tell you, their level of expertise was not gained overnight, but is the product of years of practice and study. It is evident that Kiva has spent an overwhelming amount of time perfecting the art and reaching the level he is at today.
Interested in learning more about Kiva Ford creations? Watch Kiva at work during the five minute video by Alex Rappoport, where you'll be taken into the unique world of glass blowing by someone who has mastered the art.
Handmade Portraits: Kiva Ford from Etsy on Vimeo.
(photos curtesy of Kiva and Andrea, video by Alex Rappoport)