Last year my boyfriend, Joe, was so excited to give me my Christmas present that he let me open it early. We had only been dating for a month, so I was curious to see how well he knew me already. But when I opened the small red box with the words
Verameat
engraved on it, I'm sure my face said it all. Just because I said I really liked zombie movies, didn't mean I was expecting Zombie Queen, a necklace with a sterling silver tina-turner cavewoman look-a-like zombie pendant hanging from it.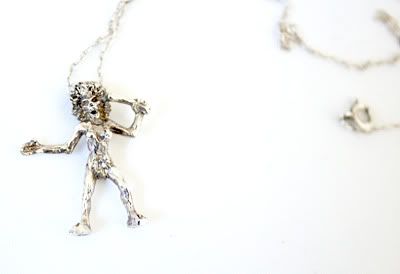 I got over my initial shock at having been given a zombie for Christmas pretty fast, and over the past year I've grown quite fond of zombie queen. The more I thought about it, the more I realized that my boyfriend wanted to give me a unique gift. A nice piece of jewelry (as far as the material goes!) that not very many people would have here in California, since Verameat is New York based.
As far as quality and unique jewelry goes, the designs by Vera Balyura top my list.