When I first joined
Etsy.com
, the biggest international crafter marketplace on the Web, I was obsessed with getting on the front page to increase my exposure. After almost 11 months of selling my photography on Etsy and participating actively within the global marketplace, I have been on the front page numerously. Once, even three times in a row, which was pretty rad. That didn't happen without work though.
The first and the most important thing about making it to the front page is getting into the treasuries other members make. If you're not in treasuries, you won't be featured.
What are treasuries? Treasuries are collections that other members of Ety make in order to promote sellers they like within a specific and often trending theme such as a single color or a holiday.
These treasuries, if they're visually appealing enough have the chance to be picked by Etsy admin to be featured on the front page. So how do you get into as many treasuries as possible in order to have the highest possibilities of being on the FP?
Well, the first step is to have at least a page or two of very well photographed items to sell. Simple backgrounds and popping images work best. Check out Etsy's
Guide to Photography
for photo tips. You will also need to have several treasuries already made so that team admin's know that you can produce visually appealing collections.
Once you're set in the photo and treasury department it's time to start applying and joining treasury making teams, where you'll join fellow members in making a required amount of treasuries per month including usually from four to six team members in the first three rows.
Probably 95 percent of the treasuries I'm in is a team treasury.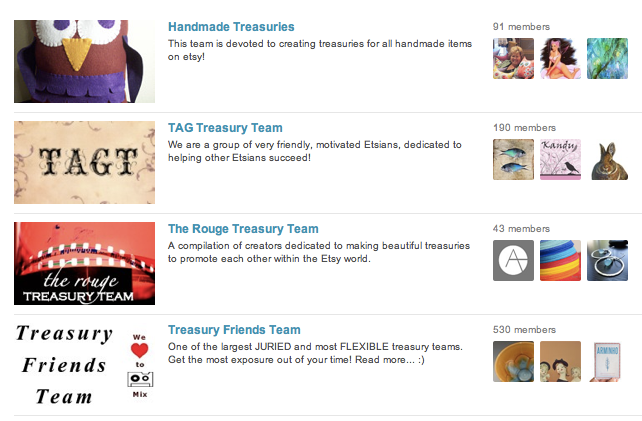 To help you meet your treasury quotas for each team use the
Shmetsy
plugin for Firefox or Chrome browsers. It'll save you tons of time, and let you join as many treasury teams as you have time for.
To help you promote treasuries, try joining treasury promotion teams such as
Click & Comment
or
123 Treasury Promo Team
. As well as send messages to the people you have featured to let them know that they are in your treasury, inviting them to comment. You can also share your treasuries or treasuries you're in on Twitter or Facebook to draw in more views.
I'm in over 80 treasures a week and get tons of views from treasuries. And it is these treasuries that have the potential of making it to the front page. So the more treasuries you're in and the bigger your treasury making circle is, the more likely you are to be featured on the front page or have one of your treasuries featured.
Although my featured count changes every month, going as low as two and as high as 15 features a month, I had never been featured on the front page until I joined treasury making teams. So if you haven't made a treasury yet and are new to Etsy, it definitely is your first and most important tool, especially when you're beginning.
So, good luck loves! And happy treasury making.
And if you have any questions, you can send me a message at: sandraproudman[at]gmail[dot]com.